Our destination experts are very adept at planning the ultimate honeymoon trip that fits your particular interests and budget. Whether you're planning a trip to a tropical destination, globe trotting across the continent, relaxing onboard a cruise ship or exploring the United States, our specialists are available to create unique and unforgettable experiences. We can plan individually tailored trips or an all-inclusive vacation. Let us assist you in arranging this very special occasion!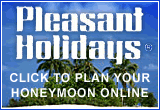 OR CALL OUR CONSULTANTS AT 818-999-5250
Our most popular honeymoon destinations are Tahiti, Hawaii, Fiji and many of the Caribbean Islands. An over-the-water bungalow on Moorea or Bora Bora is one of the most idyllic experiences that a bride and groom could ever dream of. The all-inclusive Luxury Sandals resorts offer couples the seclusion of pristine beaches, the rejuvenation of the Red Lane Spa treatments, unlimited greens fees on magnificent golf courses, comprehensive water sports programs to name a few of the exciting things available. St. Lucia has three beautiful Sandals resorts to choose from. The Paul Gauguin, a luxury cruise ship sails the islands of Tahiti, the Marqueses and Cook Islands year round. Discover some of the most dramatic beaches on the island of Jamaica where you can choose from an all inclusive resort to individual villas.


HoneymoonWishes.com provides a bridal registry service that allows brides and grooms to register their entire honeymoon online. Through this registry, guests can purchase any of the honeymoon experiences or even a portion of their trip as a wedding gift. If you have a gift wish list such as a romantic candlelight dinner, couples massage or snorkeling adventure this is the place to request all the special things you would like to do. Once registered with HoneymoonWishes.com you can send your family and friends to your honeymoon website where they can help make your dreams come true.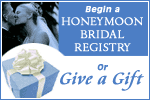 To request information or get price quotes, please contact our honeymoon specialist at wot@worldotravel.com or 800-660-0828.